OCTOBER 2005 PIPE ORGAN CONCERT SERIES
WORCESTER, MASSACHUSETTS USA

First Unitarian Church, Aeolian-Skinner/Russell-Gilbert Pipe Organ
KATRINA KATRINA BENEFIT CONCERT
Saturday, October 1, 7:30 pm
First Unitarian Church
90 Main Street
Choir, Instruments, Soloists
MORE INFORMATION
---
Tuesday, Oct 4, 7pm First Unitarian Church, Worcester
Timothy E. Smith
Carnival of the Animals, Saint-Saens transcribed by T.E. Smith
Buxtehude
Mathias
Bonnet
Bohm
J. S. Bach
Calvin Hampton
Timothy Smith is Minister of Music at First Congregational Church, United Church of Christ in Columbus, Ohio, where he directs the church's choirs, a lively concert series and plays the church's von Beckerath and Kimball organs. He also serves as organ instructor for Trinity Lutheran Seminary in Columbus.
He is a graduate of Wheaton College, Northwestern University, and Boston Conservatory, and his teachers included Squire Haskin, Gladys Christensen, Richard Enright and James David Christie. Mr. Smith has served churches in New York City, Nashville, Boston and Chicago, and his performances have been broadcast nationally on Pipedreams and Performance Today. For eight years he was music director at First Parish Framingham, and for three seasons he conducted Harvard pro Musica. He appeared twice with the Boston Symphony Orchestra and Seiji Ozawa. He has been a featured recitalist for several national conventions of The Organ Historical Society, and served the Society as Chair of the Organ Citations Committee for ten years. Currently he is a member of the Executive Committee for the Columbus Chapter of The American Guild of Organists.
As an organ builder and organ consultant Tim has worked with churches in several states and denominations, revitalizing older instruments in dynamic new designs. He is also interested in old home restoration and urban neighborhoods.
---
Tuesday, Oct 11, 7pm First Unitarian Church, Worcester
Angelo Castaldo (Naples, Italy)
J.S. Bach (1685-1750) - Preludio e fuga in Mi bemolle maggiore BWV 552 (E-flat major)
Gustaf Mankell (1812 – 1880) - Sonata (Allegro Concertante – Adagio – Allegro vivace)
Aladino Di Martino (1908 – 1989) - Tema e Variazioni
Alfredo Cece (1915- ) - Fantasia e fuga in do minore
Henrik Andriessen (1892 – 1981) - Toccata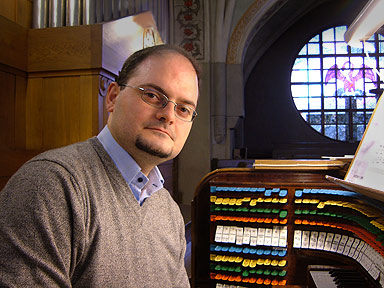 Angelo Castaldo was born in Naples (1973), and began his musical studies in early childhood leading to a diploma in Piano and Organ. He graduated cum laude in Literature at University "Federico II" in Naples, and is currently working toward a Masters Degree in Musicology at University in Rome. He was awarded a "Diploma di Merito" in two international organ competitions (Rome 1996, Florence 1998).
A journalist since 1993, he was musical critic of daily Napoli Sera and the bimonthly Arte Organaria e Organistica. He has edited the first publication of Fantasia a Due Organi by M.E. Bossi, "Sonata per organo" by G.B. Pergolesi, "Opera Omnia per organo" by G. Cotrufo (Editions Carrara), many pieces of Italian music from 20th century (F. Capocci, F.M. Napolitano, E. Gubitosi, E. Marchetti) and a treatise on Music Theory.
He has concertized extensively in Italy (Milano, Roma, Napoli, Firenze, Como, Bologna, Venezia, Verona) and throughout Europe: Germany, Poland, Ukraine, England, Scotland, Russia, Finland, Sweden, Norway, Estonia, Belgium, Czech Republic, France, Hungary, Denmark. In 2005 he is performing in a concert tour in South America (Brasil, Argentina, Uruguay) and in the USA, including concerts in Chicago, Worcester, New York, San Francisco, Berkeley, and for the New Year's, a concert at the National Cathedral in Washington DC. In 2006/2007 he will launch an extensive concert tour in Australia and New Zealand.
In 2006 he will begin recording two CDs on a historical organ from the 18th century and the Opera Omnia of Italian organist G. Cotrufo (3 CDs). In addition Angelo Castaldo is the Artistic Director of the famous Campania (Italy) Organ Festival.
He has held the post of organist of St. Chiara's Basilica and presently is Organist and Choirmaster of Volto Santo's Sanctuary, the most important church in Naples.
---
Tuesday, Oct 18, 7pm First Unitarian Church, Worcester
Jeffrey Wood
Works by Bohm, Buxtehude, Bach, Mendelssohn, Cabezon, Duruflé
Holy Cross 2006 Organ Scholar and
First-Prize winner:
2004 Augustana Arts Organ Competition, Denver, CO
2004 Boston AGO Chapter Competition for Young Organists
2005 Hartford AGO Regional Compeition for Young Organists
| | |
| --- | --- |
| | Jeffrey Wood was awarded the full-tuition Organ Scholarship at the College of the Holy Cross in Worcester, where he studies with Professor James David Christie. He is currently a senior at the college, and is majoring in Music. His previous organ teachers were Elizabeth Cataldo of Pepperell, Massachusetts, and Bruce Adami of Manchester, New Hampshire. Before his Freshman year at Holy Cross, Jeffrey spent a year studying jazz piano at Berklee College of Music in Boston. Jeffrey has performed organ recitals throughout New England, including programs at St Paul's Cathedral in Worcester, Trinity Church in Boston, King's Chapel in Boston, and Brookside Congregational Church in Manchester, NH. He has also performed with many local ensembles, including the Boston College Chorale, the Newton Choral Society, and the Heritage Chorale of Framingham. Jeffrey was the first prize winner of the 2004 Augustana Arts National Undergraduate Organ Competition, and the 2005 AGO/Quimby Regional Young Artists Competition. Jeffrey recently made his premiere with the Boston Symphony Orchestra, performing harmonium in Mahler's Eighth Symphony under conductor James Levine. He was also invited to perform a recital for the trustees of the BSO to demonstrate the newly renovated Symphony Hall pipe organ. Jeffrey has performed in master classes for such noted organists as John Grew, David Boe, Jean Ferrard, Jean-Pierre Leguay, Lionel Rogg, and Olivier Latry. He was also a guest participant in Oberlin Conservatory's January Organ Tour of France, where he had the opportunity to perform and study on many great instruments in Paris, Toulouse, and elsewhere. Last Spring Jeffrey accompanied the Boston College Chorale on their concert tour of Rome, Italy. He will join them again this spring on their tour of Prague and Vienna. |
---
| | |
| --- | --- |
| | |